Date:
October 13 - October 15
Location:
Consulate General of Hungary, New York
223 E 52nd Street, NY 10022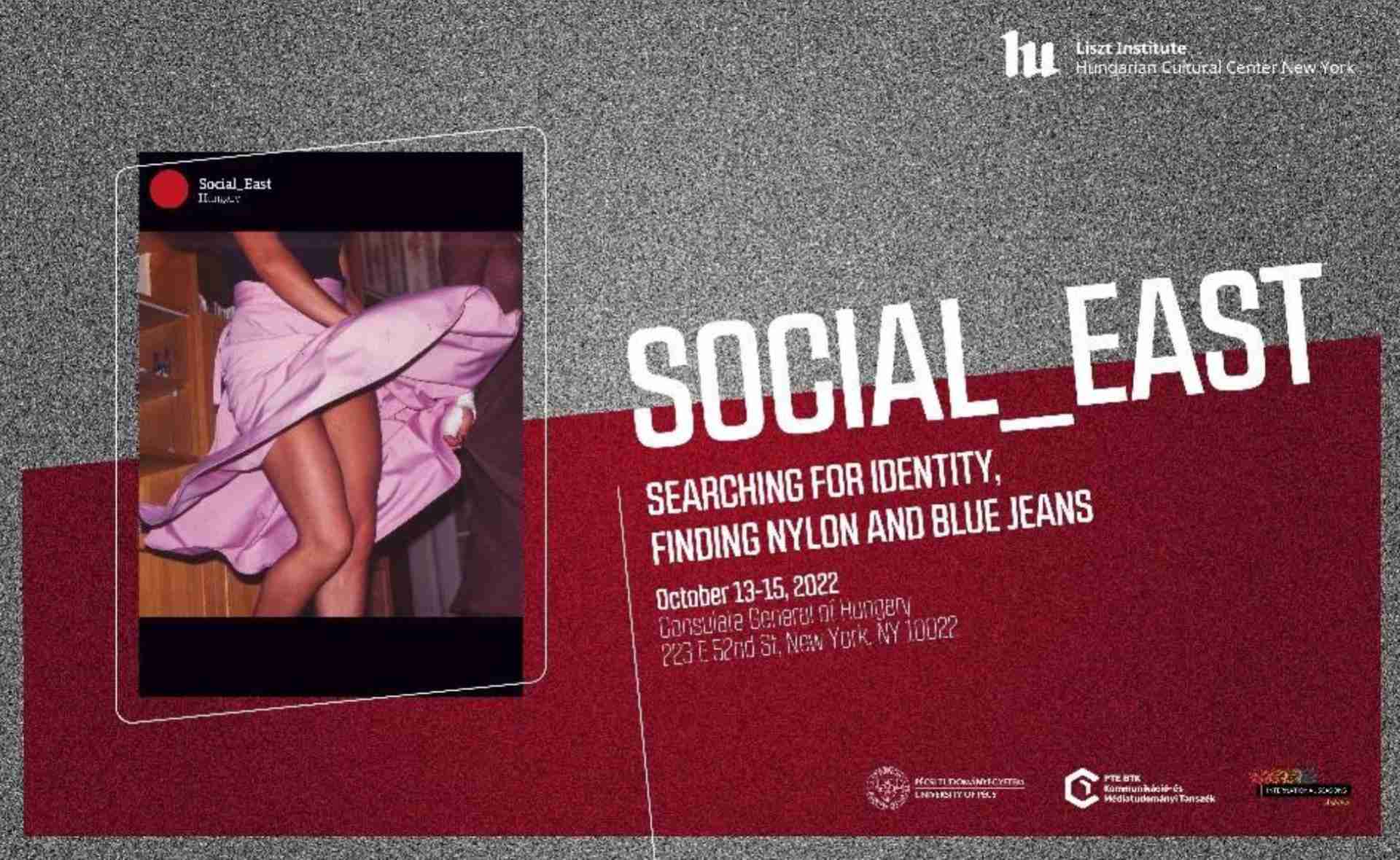 SOCIAL_EAST: Searching For Identity, Finding Nylon And Blue Jeans, is an image-based, speculative exhibition that brings the past into conversation with the present. Through the use of archival images from the University of Pécs, Communication and Media Studies Department's Media Lab, curators Doris Domoszlai-Lantner and Petra Egri merge the fashion and dress culture of Hungary's socialist past with contemporary, globally prolific social media, to ask: What if social media existed during the socialist Kádár era? What images would users share, and what captions and hashtags would they write for them?


OPEN HOURS
Thursday to Saturday, 12PM - 9PM, 13-15 October 2022.
Exhibiton events:
October 14:
Hungarian-language tour, led by Petra Egri at 2PM
English-language tour, led by Doris Domoszlai-Lantner at 6PM
October 15:
Fashion, City and Culture: Panel discussion with curator Doris Domoszlai-Lantner, and Júlia Horváth, creator of GAHSP Media and Systems at 4PM
Closing reception from 4:45PM
Please note, for these events the number of available tickets are limited and registration is required! Click here to register.
The exhibition's curators will be dressed by Alma Vetlényi, head designer and creative director of the Hungarian contemporary womenswear brand ALMA.
About the Curators
Doris Domoszlai-Lantner is a New York-based fashion historian. She holds an M.A. in Fashion and Textile Studies: History, Theory, Museum Practice from the Fashion Institute of Technology (FIT). Doris has founded and developed several private and corporate fashion archives. She has presented her research at numerous international conferences, including those at Oxford University, University of Lille, France, and Columbia College Chicago. She is the co-founder of the Fashion Forward think tank, and is currently an adjunct instructor at Massachusetts College of Art and Design, and Boston Architectural College. Her co-edited book on digital fashion will be published by Bloomsbury in early 2024.
Petra Egri is an assistant professor at the Department of Applied Arts at the University of Pécs. Her research interests and publications are in the subjects of theater, performance, and fashion. Egri has published her research in professional journals and edited books in English, Hungarian and Russian. She has lectured at numerous international fashion conferences (Milan, Pontevedra, Moscow, Manchester, Roubaix). Petra is writing a Ph.D. dissertation on major radical performances, analyzing their deconstructive rhetorics with the theoretical background of Jacques Derrida, Paul de Man, and contemporary psychoanalysis.
Background of the Exhibition

As far as traditional, text-based research and knowledge is concerned, there exists a formidable body of work that interrogates the legacy of the Hungarian People's Republic (1949-1989), otherwise known colloquially as the 'socialist era' in Hungary. Less formidable, however, are the information and resources on material culture - especially that of fashion - from this period of time. In the past decade or so, and more so around the recent celebrations of the 30th anniversary of the 1989 fall of the regime, this has slowly started to change. Books and exhibitions on designers such as Klára Rothschild (1903-1976) and Tamás Király (1952-2013) have enriched academia and made their way into the public discourse, but there is still more work to be done, including on everyday sartorial practices— both that of functional dress, and fashion. This exhibition seeks to expand upon the body of knowledge that is currently available, and confer upon it a new perspective that brings the past into conversation with the present.