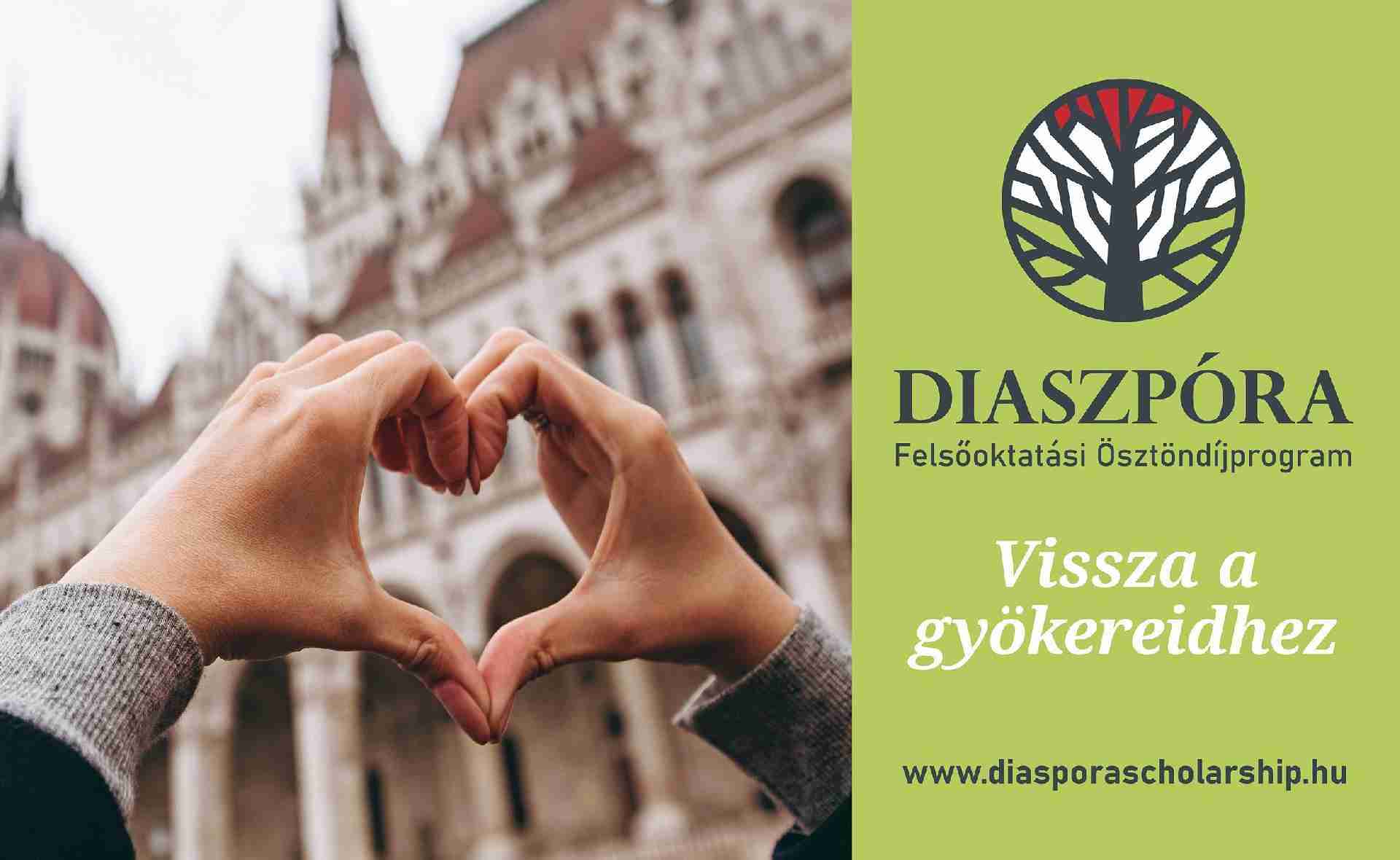 Key information
The main aim of the Scholarship Programme for the Hungarian Diaspora (hereinafter: the Programme) is to give support to foreign students with Hungarian identity to pursue their studies in Hungarian higher education institutions.
The Programme is organised by the Ministry of Foreign Affairs and Trade, managed by Tempus Public Foundation.
The Programme includes members of the Hungarian diaspora communities in every country in the world, except in the Member States of the European Union, the Republic of Serbia and the Zakarpatska Oblast part of Ukraine.
The Call for Applications of the Programme will be announced for the first time by the end of 2020 in order to apply for admission to the 2021/2022 academic year
Application criteria:
 – Hungarian identity and connection to a diaspora community declared in a motivation letter and a statement,
 – residency in one of the supported regions,
 – recommendation letter from a Diaspora Organisation or the Hungarian Representation of the respective territory,
 – living outside Hungary for at least 10 years before the submission of the application,
 – 4 years of applicant's secondary school studies completed outside Hungary,
 – applicant was born before 31 August 2003 (except those applying for Dance study programmes),
 – applicant undertakes to learn Hungarian as a foreign language and Hungarian culture during his/her whole study period and undertakes to pass a Hungarian as a foreign language exam at CEFR B2 level minimum,
 – applicant undertakes to help the local Hungarian diaspora organisation in a foreign country with community work for the specified period in the Call for Applications after graduation.
The applicant must complete the admission requirements set by the host higher education institution. The admission process is managed by higher education institutions online.
The motivation letter will be evaluated by a professional body, the Evaluation Committee, composed of members invited by the Ministry of Foreign Affairs and Trade. The award of the scholarship is based on the results of the admission procedure and the proposal of the Evaluation Committee.
The detailed application criteria and selection procedure will be set out in the Call for Applications.
Provisions covered by the scholarship:
 – exemption from the payment of tuition fee
 – health insurance (social security card)
Provisions covered by the scholarship on request (conditions for this are set out in the Regulations):
 – monthly stipend and contribution to accommodation costs
Available study programmes:
The Programme involves Hungarian higher education institutions that also offer study programmes in the Stipendium Hungaricum programme. The list of study programmes available in the Programme (including programmes taught in Hungarian) is currently being finalized in cooperation with the higher education institutions.
Study programmes both in English and Hungarian will be available. In the case of English language study programmes, the scholarship holder must also participate in Hungarian as a foreign language course during the period of studies. For the studies planned in Hungarian, we will provide an opportunity to participate in a Hungarian language preparatory course.
Application process:
 – applicant can apply for up to two different study programmes
 – application must be submitted via online application system
Indicative timeline:
 – 2020: Call for Applications to be published
 – January 2021: application deadline
 – March – May 2021: professional evaluation by the Host Institutions
 – June 2021: information on application results
 – September 2021: arrival to Hungary and start of higher education studies
More information:
Legal background of the scholarship program: 203/2020. (V.14.) Government Decree.
Detailed rules of the Programme and the application criteria will be set out in the Regulation and the Implementation Guide, as well as in the official Call for Applications, which will be available soon on the Programme's website launched in Fall. (www.diasporascholarship.hu)
In case of any questions, please contact:
Tempus Public Foundation
Email: diasporascholarship@tpf.hu
Phone: +36 1 236 5045