Venue:
Liszt Institute Brussels
10 Treurenberg, 1000 Brussels
The Visegrad Group (V4) is a long-standing regional alliance in Central Europe and a geographical region with an exceptionally rich cultural heritage and natural treasures. Cooperation between the Czech Republic, Hungary, Poland, Slovakia covers a wide range of areas, including culture and the promotion of our cultural achievements around the world.
With the motto "Recharging Europe", Hungary's 2021/2022 V4 Presidency aims to contribute to economic and social reopening in the region after the pandemic. In this spirit, the presentation of the cultural values of the V4 is of special importance today. Music as a common language is particularly potent tool to introduce a region, and it also has a strong community-building effect. This is perfectly reflected in the mission of the classical music talent competition Virtuosos V4+, and the present concert tour marking Hungary's V4 Presidency, which combines the talent of today's young Visegrad artists with the works of great Visegrad composers from the previous centuries.
The Virtuosos V4 concert series are introducing the greatest talents of the show. In Brussels, the audience will meet Ildikó Rozsonits pianist (15) from Hungary, Miriam Minkova (17) violinist from Slovakia, Eduard Kollert (19) violinist from the Czech Republic and Zarina Zaradna (10) harpist from Poland.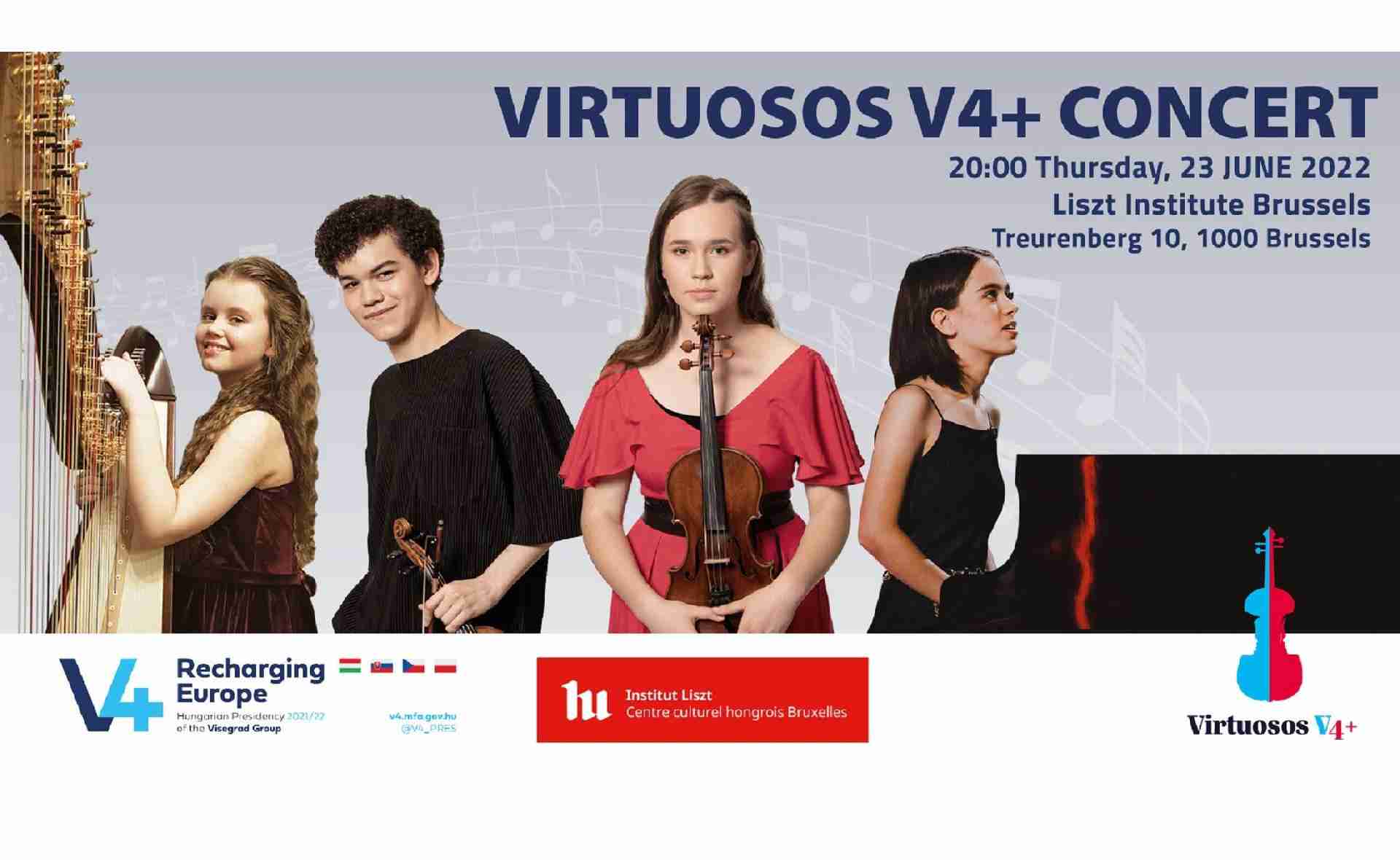 ILDIKÓ ROZSONITS (15, piano, Hungary)
Hungarian winner of Virtuosos Visegrad 4+ 2020.
Ildikó was born in 2006 in Budapest. Her parents are not musicians, yet her extraordinary talent was already evident at the age of 4, when she began playing the recorder on her own. At that time, her parents took her to flutist Réka Kassai, with whom she learned the first-year music school curriculum in half a year, and then began playing the piano at the age of 5 at her teacher's suggestion.
She was accepted into the Liszt Academy for exceptional young talents in Budapest as a ten-year-old and became the youngest student at the school under the tutelage of Professor Gábor Eckhardt.
Over the past four years, she has won numerous prestigious international piano competitions in Slovenia, Slovakia, Romania, Italy, Germany, Austria, the Czech Republic and Belgium.
She is a laureate from a number of prestigious international piano competitions, let us mention Ildikó's most remarkable results.
MIRIAM MINKOVA (17, violin – Slovakia)
2019 Arkady Fomin Scholarship Fund recipient
Miriam Minkova is a Polish-Slovak violinist. She started playing the violin at the age of 7 in Evgenia Prievalska's class. She is currently studying at the Prague Conservatory under Professor Jindřich Pazdera. She has won numerous awards at international competitions, for example the Special Award for an Outstanding Interpretation at the Václav Krůček Competition 2018. She was named Pressburg Paganini 2018 and is also the recipient of the Arkady Fomin Scholarship. She was a finalist of Virtuosos international TV talent competition. She has made her soloist debut in 2018 with the Slovak Sinfonietta and has since then worked with the Prague Conservatory Chamber Orchestra, Budafok Dohanányi Symphony Orchestra and Hungarian Radio Symphony Orchestra, with conductors such as Simon Chalk, Gábor Hollerung, Chuhei Iwasaki and János Kovács. Miriam has taken masterclasses with Danuta Głowacka-Pitet, Dorota Obijalska, Jan Drha, Dalibor Karvay, Evgeny Sinaisky, Eliseu Silva and Vadim Gluzman.
EDUARD KOLLERT (19, violin - Czech Republic)
Virtuosi V4+ Czech silver medallist (2020)
He was born in Tokyo, to Japanese mother and Czech father. His parents are pianists and his young brother is also playing the violin, and contested in Virtuosos. His own point of initiation came when he heard his father's concert with the violinist Josef Suk.
Not quite seven years of age, Eduard began studying the violin at a music school in Prague, while his parents taught him the piano. Within a mere two years he was performing to huge acclaim as a soloist with the PKF – Prague Philharmonia; for his programme he chose one of J. S. Bach's violin concertos and a piano concerto by L. van Beethoven, playing both during a single concert.
This led to an invitation by the Spanish royal family to perform at the Palacio Real de El Pardo in Madrid, where he excelled with a solo programme for both violin and piano. The following day the concert organisers introduced him to Zakhar Bron, who invited him to attend the new Zakhar Bron Akademie in the Swiss town of Interlaken. Eduard has been studying with professor Bron since then and he continues his studies at the Queen Sofía School of Music in Madrid.
Eduard is the top prize winner at various international competitions – the «Young Virtuosos» held in Bulgaria, the «Nutcracker» TV contest in Russia to name just a few of them.
He regularly plays at concerts and festivals in Europe, Russia, Jordan and Japan at events like Interlaken Classics, Moscow Meets Friends Festival, Festival Young Prague, Bohuslav Martinů Festival and Prague Spring Festival. Eduard is often invited by orchestras for concerto performances and concert tours.
He has been the guest of numerous TV and radio programmes.
In December 2020 he appeared in a multi-episodic TV Talent Show «Virtuosos» alongside world stars like Plácido Domingo, Thomas Gottschalk or Ida Nowakowska. Eduard also stars in the 2021 documentary film «Talent».
ZARINA ZARADNA (10, harp, Poland)
Silver Medalist of Virtuosos V4+ (2020)
Zarina Zaradna is 10 years old. She's been learning to play the harp for five years, in Poznań Music School. She lives in a small village – Przeźmierowo - near Poznań.
Her harp teacher is Dr. Anna Sikorzak-Olek, who lives in Warsaw. Lessons are conducted on-line, and twice a month she takes the train for lessons from Poznań to Warsaw, which is 300 km away.
She is also a talented ballet dancer, however, her greatest passion is playing the harp. She loves performing on stage in front of an audience. She frequently applies to music competitions in Poland and abroad. Each of the live performances in front of an audience is a great experience for her, she is a very open, friendly person.
Her biggest dream is to perform in renowned concert halls around the world.
Her achievements: despite her young age, Zarina has already took part in 29 music competitions, taking first place 18 times, including 2 Grad-Prix.
Her greatest successes include winning 1st place at "Glowing Harp" International Harp Competition in Ukraine, in 2021. In her age group 51 participants had been accepted from around the world (Austria, Belgium, Belarus, Bulgaria, China, Lithuania, Germany, Poland, Russia, Romania, Ukraine, the United States, Venezuela, Hungary, Great Britain). Zarina also won 1st prize and the GRAND PRIX at the 11th International Music Competition in Belgrade, Serbia in 2020, where she was the best of 77 harpists.
2014, Virtuosos is a Hungarian-based classical musical talent show that has revolutionized the domestic TV market.
Within a matter of weeks, it became one of the most rated TV shows on public television. The format of Virtuosos is unique, focusing on the discovery of young classical talents and their subsequent development along with international performing opportunities. As a direct result of the show, applications to music schools increased by 14% after the first season.
Over recent years, Virtuosos has become an outstanding Hungarian brand plus a movement highlighting classical music to the next generation. By 2023 the Virtuosos format will appear on TV networks across eight countries including Germany (ARD) plus three other regions (Latin-America, Asia, Northern Europe).
Based upon the success of the Virtuosos classical musical talent scout program, the Visegrad Virtuosos+ Serbia international talent show and education program was implemented in 2020. This primary objective of this is both classical music and musical development within the Central and Eastern European region but showcases Hungary in the participating countries.
The first season of Virtuosos V4+ was watched by more than 6.8 million TV viewers in each partner country with a global reach exceeding 66 million people. Following the positive domestic and international feedback, the Virtuosos V4+ program and television talent search program was held again in 2021, extending an invite to Croatia as guest country.
The international series of the show of Virtuosos V4+ so far has featured renowned classical music artists as members of the jury, including Plácido Domingo, Maxim Vengerov, HAUSER, Gabriel Prokofiev, Erika Miklósa and Gergely Bogányi.