Venue:
Parc du Cinquantenaire
Intersection Avenue des Nerviens – Rue Dekens, 1000 Brussels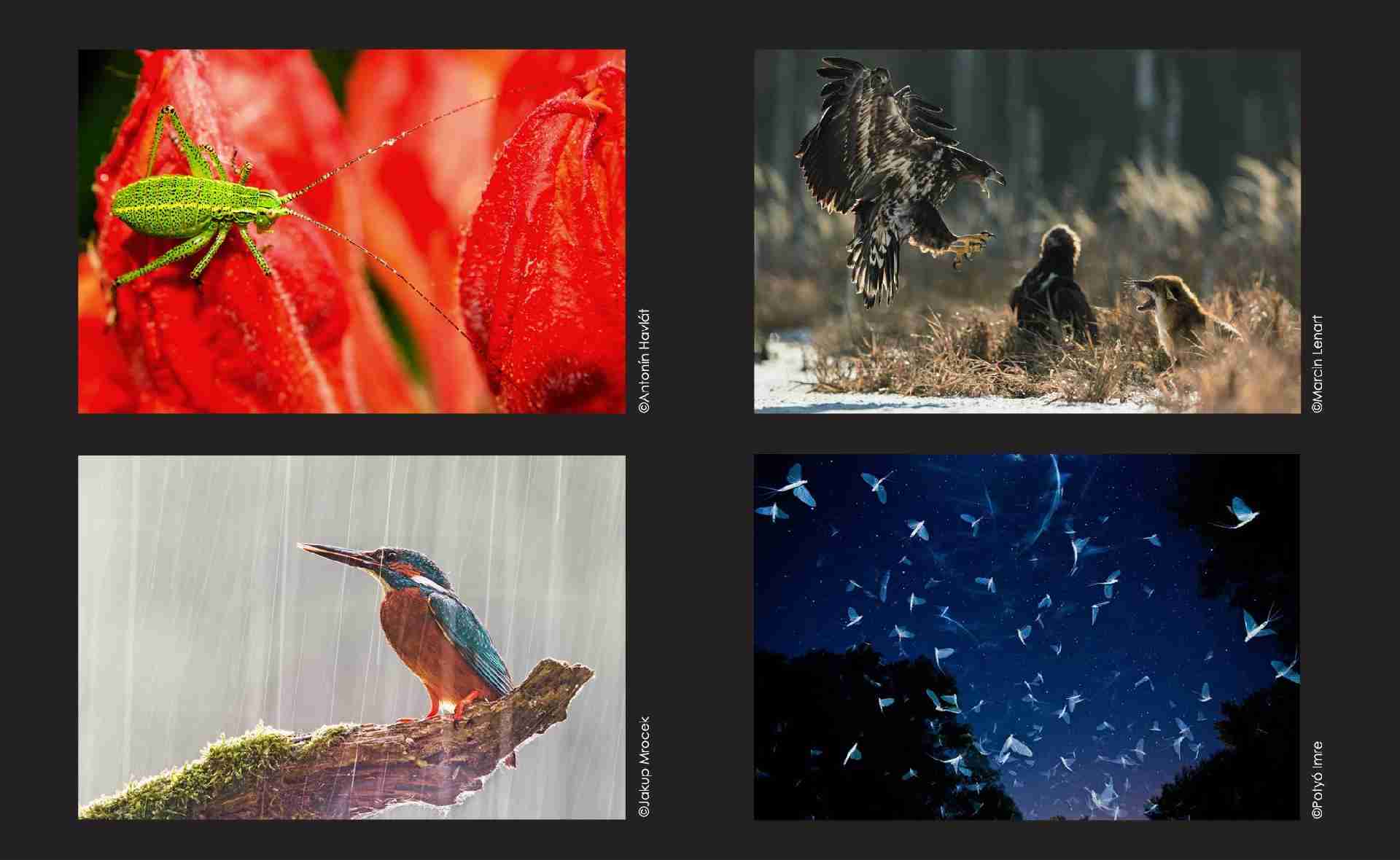 The Visegrad Group (V4) is a 30-year-old regional alliance in Central Europe, as well as a geographical region with a rich cultural heritage and spectacular natural treasures. The V4 countries cooperate to advance their joint interests in the European Union, support stability in their neighbourhood and promote the region globally. With the motto "Recharging Europe", Hungary's 2021/2022 Presidency of the Visegrad Group aims to support post-pandemic economic restart in the region, with a strong focus on sustainability, climate policy, and green economic transition. It is in this spirit that this exhibition sheds light on the beauties of nature in the V4 region, which we strive to preserve for future generations.
To show the natural beauty of four countries in 60 pictures is an almost impossible task. But now, at the request of the Hungarian Ministry of Foreign Affairs and Trade, the best nature photographers from 4 countries have taken the challenge. The Ministry asked the Hungarian naturArt, the Association of Hungarian Nature Photographers, to organize and coordinate the project. The largest nature photographers' associations in the Visegrad countries were involved in the selection and provision of the images.
Nature photography is a wonderful experience. To capture the most beautiful moments of nature, photographers need to know all the characteristics of the animals, plants, or landscapes, their behavior, and the changes in light conditions. They need to become almost one with the environment, because only then can they take good pictures without disturbing nature. For many of them, taking a picture is secondary, the main thing is to be out in the open as part of nature and to experience the wonderful sensations that only a walker can have.
Many of the members of the four nature photographers' associations have become world-famous as nature photographers.
naturArt- Association of Hungarian Nature Photographers, HUNGARY
We founded this organization in 1989 to promote ethical nature photography in Hungary. It organizes the annual "Nature Photographer of the Year" competition, which has become the largest nature photography competition in the region. naturArt has introduced several world firsts, including live online judging on the internet. 80 of its members have been very successful in the world's major nature photography competitions and among them are world-famous nature photographers such as Bence Máté, Csaba Daróczi, Imre Potyó, István Kerekes, Orsolya Haarberg, Milan Radisics.
Slovak Association of Wildlife Photographers, SLOVAKIA
The Slovak Association of Wildlife Photographers was founded in 2005. Currently, we have 52 members. The mission of our association is to increase the social and artistic level of nature photography in Slovakia, to support and popularize nature protection. The members of the association are holders of significant awards at home and abroad. Many are engaged in publishing activities in Slovak and foreign magazines, professional monographs, and publications. Slovakia still has many interesting and wild areas, in which rare species of animals can be found. Our country is also very diverse, despite its rather small size, so one can find high mountains and wet lowlands, old primeval forests, and wild rivers too. We hope our images, which can only capture a fraction of its beauty, will help to preserve the wild face of Slovakia.
Most famous members: Miroslav Zumrík, Peter Fodor, Jakub Mrocek, Dominik Kalata, Stanislav Harvančík, Ivan Godál
"Klub fotografů přírody" (KFP) - Nature Photographer's Club, CZECH REPUBLIC
The club was founded in 1990 under the Czech-Moravian Hunting Association (ČMMJ) and currently has 25 members. The Founding Idea of the KFP is to bring together advanced national photographers of Wildlife into the club, which would then present "Hunting without weapons" to the public, not only on the national but also on the international level. We are annually publishing a popular calendar for the public, lasting several decades in a row in many thousands of copies, we organize photo exhibitions multiple times every year and we also publish books, prints, promotional items. Our most well-known members: Sláva Štochl, Jan Rys, Eduard Studnička, Ján Dubeň, Miroslav Kratochvíl, Miro Zumrík, Rostislav Stach, Antonín Říha, Jaromír Zumr.
Polish Nature Photographers' Association, POLAND
Polish Nature Photographers' Association (ZPFP) is the oldest and largest of the Polish associations bringing together nature photographers. Established in 1995 by 21 founding members, currently consists of around 500 people from all over the country, operating in a total of 13 regions. Polish Nature Photographers' Association sets itself the goal of promoting and raising the standard of nature photography and presenting Polish accomplishments in this area on the international scene. Moreover, makes every effort to popularize knowledge of nature and ecology as well as takes an active part in the protection of Polish nature through the promotion of ethical rules that should be respected while photographing plants and animals, including in ZPFP's Ethical Codex. We cooperate with National Parks, organize open-airs, exhibitions, contests, and various events, including the annual international festival of nature photography - "Visions of the Nature". Well known members of ZPFP: Artur Tabor (he died tragically in 2010), Katarzyna Gubrynowicz, Joanna Antosik-Żołądek, Mateusz Piesiak, Adam Ławnik, Janusz Wojcieszak, Karol Woźniakowski, Wiesław Lipiec, Agnieszka i Włodek Bilińscy, Cezary Korkosz, Grzegorz Lewandowski.
The exhibition is primarily intended for those who have never visited Central Europe. But we also hope that this exhibition will bring something new to those who live in one of these four countries and who are on their way to discover the beauty of the area that they did not know about.
We look forward to welcoming you to the wonderful landscapes of the Visegrad countries!