Ambassador Kumin Ferenc presented teacher and translator Len Rix the Golden Cross of Merit of Hungary medal, awarded by the President of Hungary. Len Rix is known as an ambassador of Hungarian literature to the Anglosphere for his exceptional translations of Antal Szerb's Journey by Moonlight and The Pendragon Legend and of Magda Szabó's The Door and Katalin Street among others, as Liszt Institute director Máté Vincze pointed out in his laudation.
On 8 February 1942 Len Rix was born in Salisbury, Southern Rhodesia, which is Zimbabwe today. For a good decade, little did he know about a small, central European country called Hungary, but like many young British boys his age, Len's passion was football. This passion lead to him realising Hungary existed when its football team defeated England 6 to 3 in 1953.
Three years later, in 1956, Len learned about the brave Hungarian 'Pesti Srácok', the guys of Pest, kids his age or only a little bit older taking on the most powerful army of the time, the Soviets in the revolution and freedom fight. These two childhood memories formed his love and passion for us, Hungarians. Well, the revolution was crushed by the mighty Soviet army – although its spirit was not broken and Hungary never defeated England again in a soccer game since the Golden Team also known as the Mighty Magyars.
Len went on to study linguistics, Latin, French and English at the London University and then Literature at Cambridge. He became a teacher in Great Britain and later in Zimbabwe. Upon his return to England, he once again had a Hungarian encounter – he overheard a friend speaking Hungarian, which Americans at the other side of the pond, at that time referred to as Martian, an incomprehensible strange language.
Len, however, with bravery only comparable to the Hungarian football team fighting the English team, decided to learn this strange language and he decided to do that by one of the most complex 20th-century Hungarian novels, Journey by Moonlight by a literary genius Antal Szerb. As the abstract symbolism translates into the most concrete, down to Earth plot in an Antal Szerb novel, Len's enthusiasm for Hungary translated into very active and practical acts of building cultural bridges between the two countries.
As the teacher of the Manchester Grammar School, he became one of the first to set up international exchanges with the József Fodor Secondary School in Szeged. Many of his students went there to teach English and some even settled down in Hungary.
Len's first two translations were A Time for Everything – Minden idők – by Tamás Kabdebó, published in 1995 and the aforementioned Journey by Moonlight – Az utas és holdvilág – by Antal Szerb in 2001.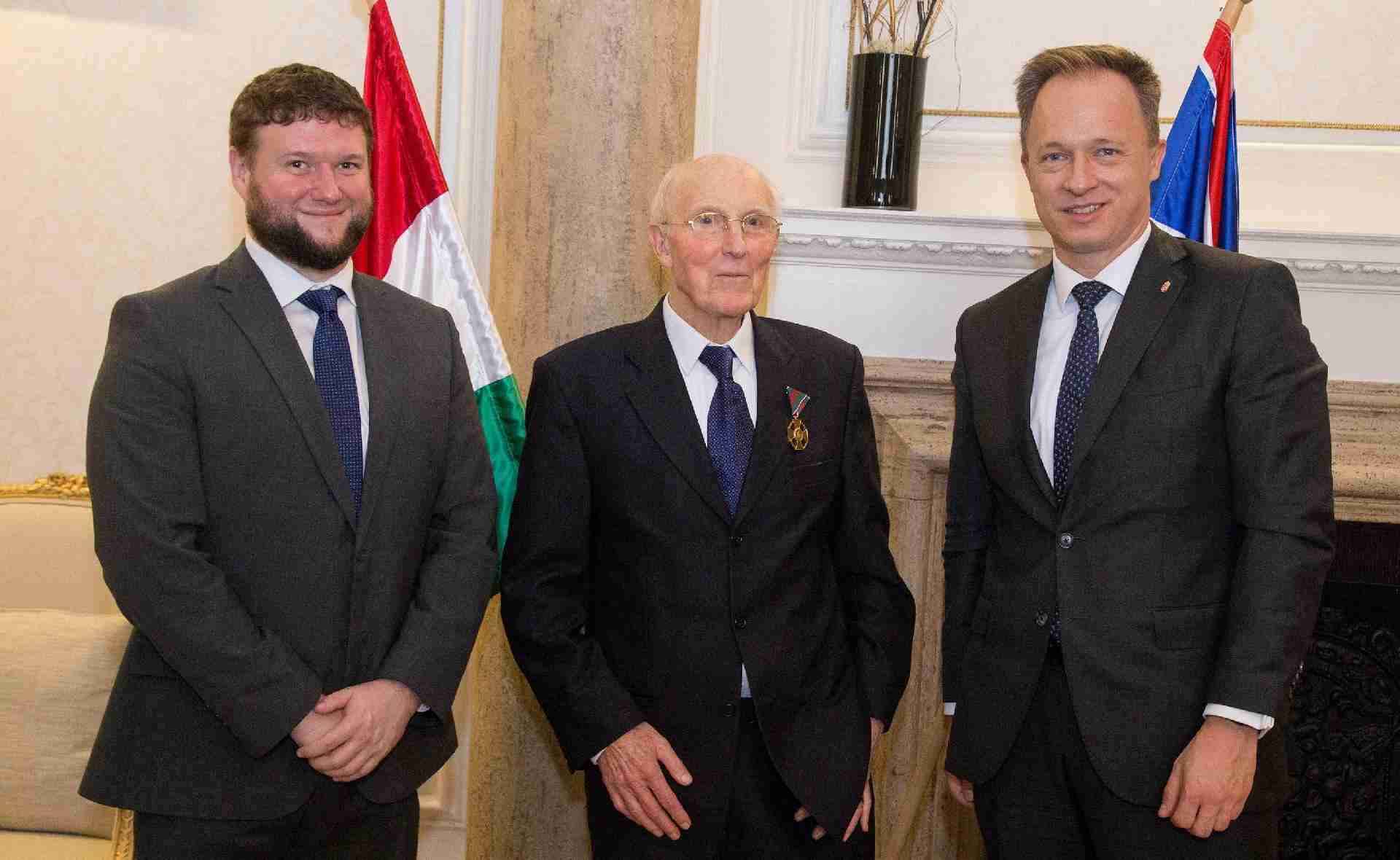 It was really after his retirement in 2005 when he found the time to explore his passion for 20th-century Hungarian classics, not just as a translator, but also as a publicist agent for Antal Szerb, Magda Szabó, Sándor Márai and very recently Count Miklós Bánffy, who was Hungary's Minister of Foreign Affairs a hundred years ago, when the diplomatic ties between the UK and Hungary were established in 1921.
Besides regular, inspirational lectures on translation at the University College London, the Cambridge-Szeged Society and even at the Hungarian weekend school of Cambridge, Len is currently the most active British translator of Hungarian literature.
Because of the brilliant quality of these translations, these publications become financially feasible – as feasible book publishing gets in 2021. The Door – Az Ajtó – by Magda Szabó was featured at the top 10 list of the New York Times, and his translation of Abigail – also by Magda Szabó – was recommended by the Guardian in 2020 as one of the best new translations.
It is thanks to Len that the English speaking audiences all over the world could read Antal Szerb's biographical novel the Pendragon legend and could get to know the untold stories and history of 20th century Hungary.
The current year is Len's most active one so far. A year ago, at end of October 2020 an anthology of Miklós Bánffy (The Enchanted Night) was published and the Fawn – az Őz – by Magda Szabó as well as two novels by Sándor Márai, Szabadulás and Föld, föld! are currently underway.
These publications will join a long list of translations that include – besides the ones mentioned before – Oliver VII (VII. Olivér), The Queens Necklace (A királynő nyaklánca) and the Third tower (A harmadik torony) by Antal Szerb, 12 essays from Sándor Márai under the title In the Footsteps of Gods and Katalin utca – Katalin street by Magda Szabó.