The Downtown Contemporary Arts Festival (D-CAF) is Egypt's first international multi-disciplinary contemporary arts festival and takes place over three weeks of each year, at multiple sites across Downtown Cairo. D-CAF is an independent initiative, its showcases groundbreaking work in the fields of music, theatre, dance, visual arts, literature and film by cutting-edge artists from Egypt, the Arab world, and beyond. In addition to working with established Downtown cultural spaces and theatres, D-CAF breaks new ground by using non-traditional sites such as historical buildings, storefronts, alleyways, and rooftops for performances, events, and arts installations, with the aim of bringing both audiences and performers to engage with the city in a new way.
Besides many local actors the D-CAF includes partners such as cultural councils, embassies, and foundations, such as the British Council, Institute Français, Goethe Institute, Pro Helvetia, Austrian Cultural Forum, Liszt Institute – Hungarian Cultural Center Cairo, and many Embassies: U.S.A, Denmark, Netherlands, Spain, Canada, Australia, Ireland, etc.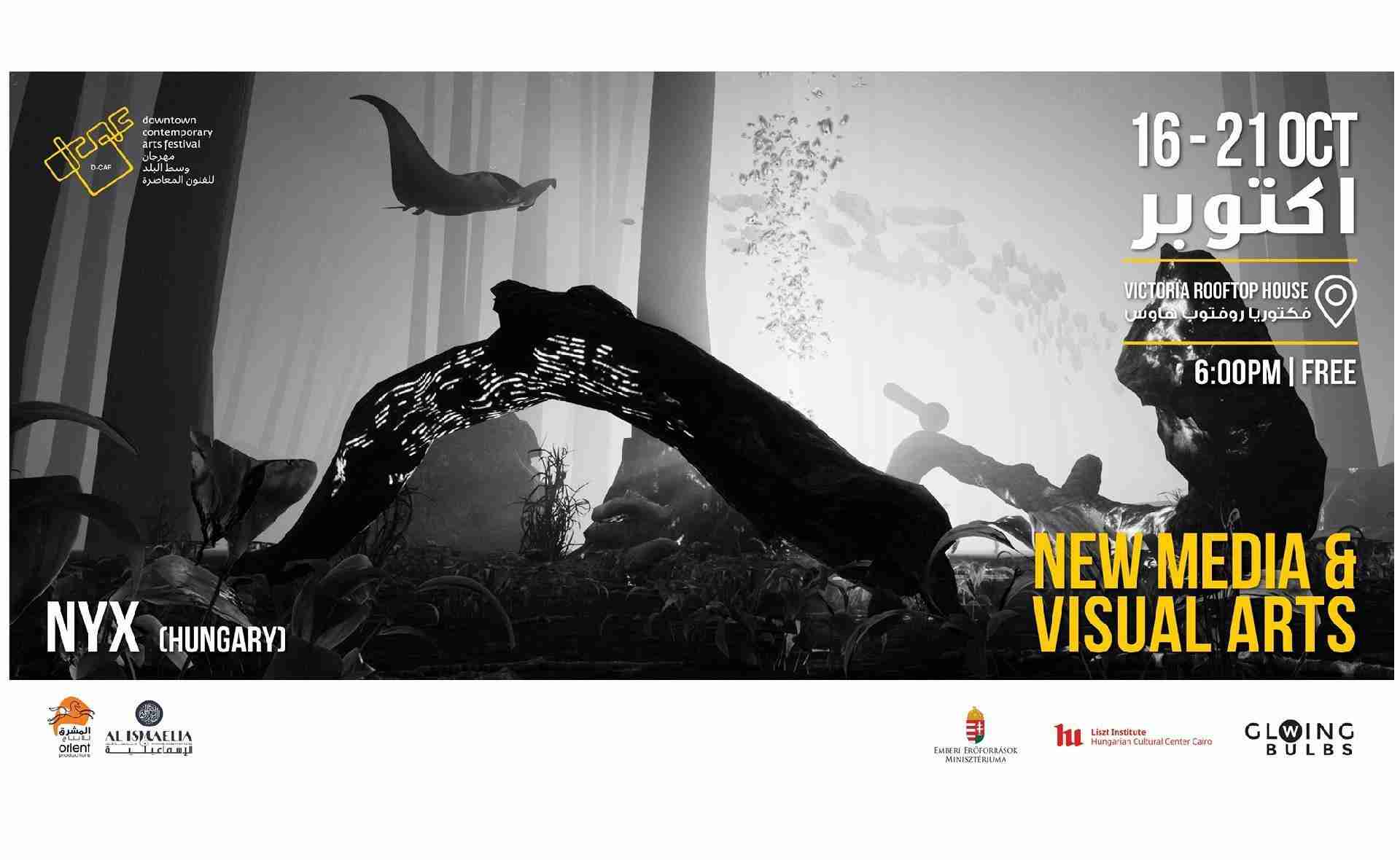 NYX is an interactive audio-visual installation by Marcell Andristyák / Glowing Bulbs.
NYX is a multi-projector interactive installation inviting the audience on an eerie trip in the depths of a misty woodland. On this journey one will become part of a quest for light through the realms of night. The spectators presence in reality sparks luminous events in the virtual space where the path is flanked by a strange mixture of creatures and objects.
The projected content of NYX is a real time rendered forest where the "inside audience" can interact with the creatures and the plants of the woods via moving around in the space. The visitors movement will be reproduced in the virtual world as a light source with particles around it. Whatever is touched by the light of the visitor will engage in a luminous action.
Conceptualized by media designer and animator Marcell Andristyák, NYX is a thrill-eliciting sensory dive into an immersive stimulation. The multi-projector interactive installation is the latest addition to Hungarian collective Glowing Bulbs' impressive portfolio of video mapping and panoramic projections, live VJ performances, music videos, short films, and stand alone video installations.
The official opening of NYX will take place on 16 October at 6 pm in the Victoria Rooftop House. After the opening the performance will be available for the public until 21 October.
How to disappear completely
How to disappear completely (HTDC) is about blurring the lines between a fictional narrative and the understanding of our actual surroundings, our reality.
Imagine a fictional novel that is about a certain area in the city but instead of reading it you get to listen to it episodically as you walk to the same sites that the story is about.How to disappear completely is an augmented audio narrative. It's an augmented reality game that uses only audio to tell a story through movement in public space. It functions as an immersive audio guide where the narrative part is fictional storyline that is triggered part by part by reaching and revisiting different locations in the urban space using geo-location and a corresponding smartphone application.
MeetLab is Budapest based studio focusing on interdisciplinary art and technology research. MeetLab's goal is to find the synthesis between ART and TECH through interdisciplinary projects and invent new categories for ourselves that are based on a real contemporary view of the constantly changing world around us.
The production was created by Bálint Tóth and Ambrus Iványos. Bálint Tóth is an architect from Budapest. Beside artistic design he develops public space installations in every scale. Ambrus Iványos is a Budapest based writer and independent theatre/filmmaker. He's contributed as a writer and dramaturg in more than a dozen independent theatre projects around Europe.
The opening ceremony of the HTDC will take place on 17 October at 7 pm at the Liszt Institute – Hungarian Cultural Center Cairo. We are delighted that the application will be available to the public not only during the entire Festival but also after it's closing on 22 October.