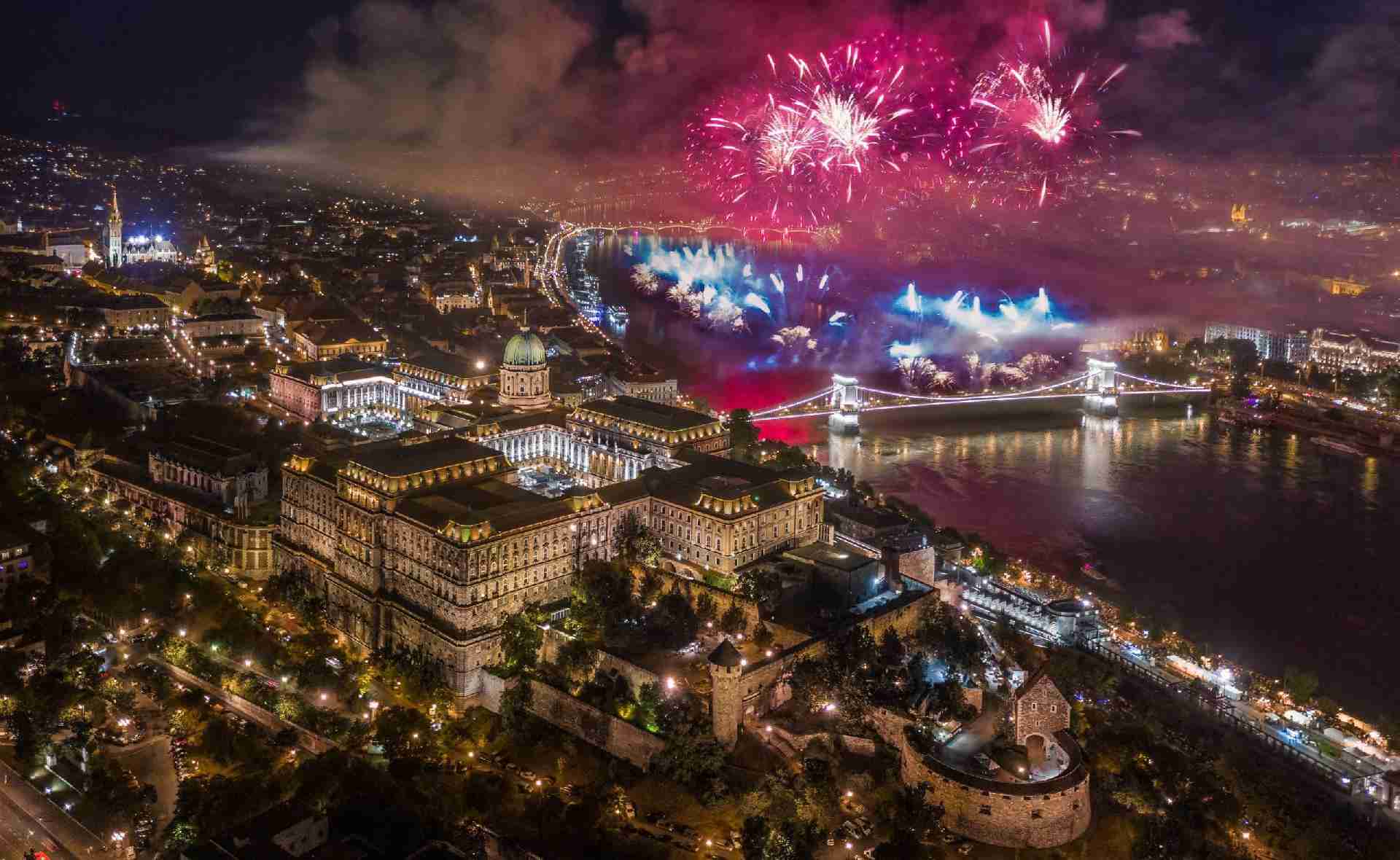 If you visit Budapest on 20 August, you can easily find yourself at some big event, whether it's the flag-raising ceremony on Kossuth Square, the Festival of Crafts at Buda Castle or the Street of Hungarian Flavours at Várkert Bazaar. In the afternoon, returning to the Pest side, you'll be impressed by the pious atmosphere of the Holy Right Hand procession around the monumental St Stephen's Basilica. And in the evening, the colours of the festive fireworks reflect on the Danube and illuminate the windows of the riverside buildings.
Sunshine, arts, sweet scents, flavours, an atmosphere soaked in a thousand years of history... But what do we Hungarians celebrate on 20 August?
This national holiday is a blend of sacred and profane traditions.
Our country's first king, Stephen I, was canonised on this day in 1083, the first Sunday after the feast of the Assumption, at the initiative of our King Saint Ladislaus. The celebration of 20 August was decreed as early as the end of the 11th century. It became a widespread legend in the 12th century that the holy king dedicated the country to the Virgin Mary on the day before his death. The veneration of St Stephen combined with the worship of Mary eventually strengthened the religious character of the feast.
Stephen I, who then still bore the pagan name of Vajk, asked for and was granted a crown by Pope Sylvester II. Subsequently, between 1000 and 1001, he was crowned king. Thus the Christian Kingdom of Hungary was born. This is why on this day we celebrate the foundation of the state as well.
An inseparable part of the celebration of 20 August is the consecration of new bread. The freshly baked bread, tied with a tricolour ribbon, is first blessed, then sliced and distributed. Traditionally, the first loaf of bread made from new wheat was baked on St Stephen's Day. Since the first baking of new wheat was in August, the month is also known as the month of new bread.
From 2011, a jury of experts from the Hungarian Bakers' Association will decide which baker's bread will be sliced in the Street of Hungarian Flavours. It is also the first opportunity to savour the Országtorta, Hungary's birthday cake, its recipe will be shared on the same day. Honey-sweet Hungarian plums, apricots, delicious sour cherries, walnuts, poppy seeds and, of course, chocolate are the recurring ingredients of the cake.
In the spirit of celebrating the new bread, we invite the Institute's friends to play a game: whoever will be baking bread this weekend, share a photo of the finished 'artwork' on our Facebook page! The master baker of the three most beautiful and tempting breads will receive a small gift package! We look forward to your photos!